We went to get Matthew's new AFO yesterday. As promised, Ken made him a Spiderman AFO. Seems to be fitting nicely, only needed a few initial tweeks, but we will have to wait and see if we need to go back for more fittings.
Ken had him walk down the hallway during the fitting and he commented to me that it looks like he will needs some physical therapy to relearn how to walk. I saw it too. His gait is still the same as it was pre-surgery. He is in-toeing and walking on the outside of his foot.
So today I have left messages with his surgeon and his PUF co oridinator to see if we can get some P/T started asap. Don;t want to wait to long and have his foot regress after all he has been through.
He is moving well today. Not running yet, but I imagine he will be soon. Right now he has the 'Terry Fox Hop'.
Here is his AFO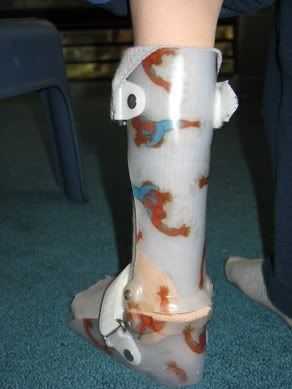 ..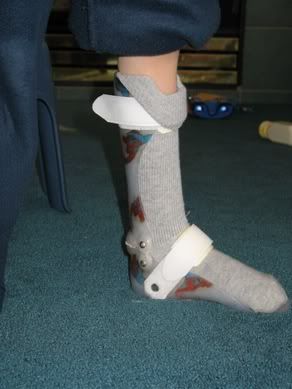 And here is a pose.