I was digging through the bench looking for mitts when I found WAY in the back Matthew's very first AFO. K, I know that most people get all teary when they see their little ones first shoes but clubfoot mommies, their first shoes are not cute. This first AFO though is to me. So tiny and so cute! I don't remember how old he was, but somewhere around 2.
Here it is up against his latest one for size comparison. Awwwwww!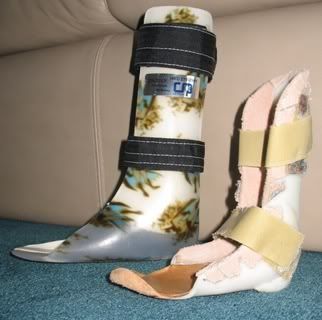 And you can see it had a lot of modifications (toe extensions) to keep him wearing it as long as possible.
So then I had to start digging around and look what I found in his closet!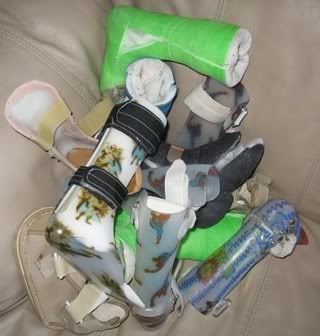 That pile represents about $12 000 in AFO's alone. Wow. And I thought little girls would cost a lot in shoes. lol
Here is a better view of it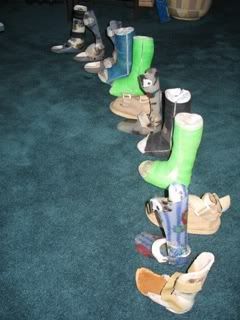 That is only a fraction of the casts that I allowed him to keep. I lost count at the number of casts he wore before he turned 3 months old. One time, when we were at the orthopedic clinic for a cast change after his surgery, a little boy said to Matthew "this is my 4th cast. How many have you had?" I honestly couldn't even guess anymore.
That said, this one is my favorite.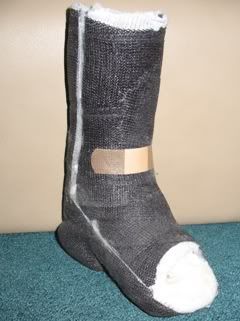 It was brand new and Matthew was crying for two days over it. Finally, he asked me for a bandaid and he stuck it on the cast and said it hurt. I took him in, they zipped the cast off and sure enough, exactly where the bandaid had been was a huge pressure sore. Poor kid. From that day on, I listened to exactly what he had to say about the comfort of his casts.
Anyways, it has been a walk down memory lane today, but I need to go and finish cleaning out the bench and find those mitts! Have a happy Friday and a wonderful weekend everyone!