I can't believe Matthew is one year post-op today. Here is where you can find out more about his
surgery.
While we waited for hours in the waiting room, I was visualizing where he would be a year later. It is kind of a bitter sweet day. I had thought that by now the curvature in his foot would be corrected and that he would be able to hold his foot in neutral. And the biggest wish, I had hoped he would have a heel strike when he walked. So, here we are at a year and his foot is still curved, he does not have a heel strike, and he is facing more surgery within the next 6-10 months.
I have to keep reminding myself. His foot will never be normal, but it can be better. If I stop comparing him to regular kids and start comparing him to him, things seem better. Here is what I mean. The following photos were taken a year apart. There is a lot of improvement.
Jan 2008
Jan 2009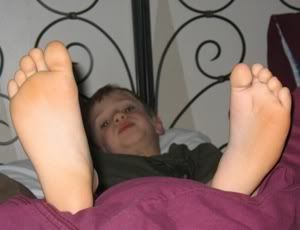 See, better. Not normal, but better. Also, you can see where I got the title for this blog in that last pic. His foot is now a good 2 sizes smaller then the other.
Jan 2008 he could not put his foot flat on the ground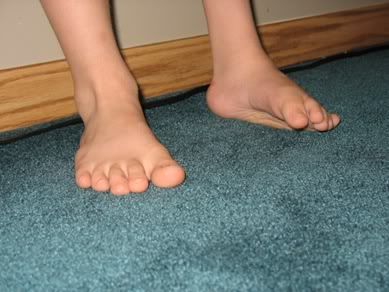 Jan 2009 darn close to flat!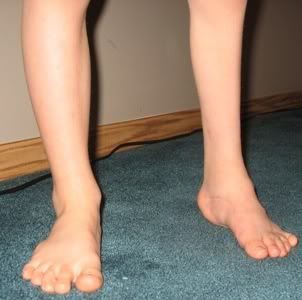 Jan 2008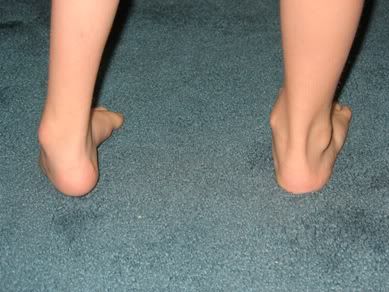 Jan 2009 not much improvement and his calf muscle is even smaller then ever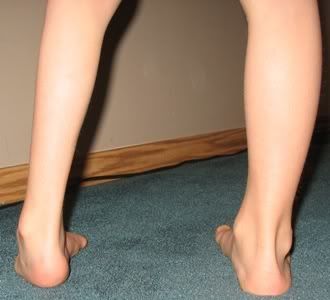 Now for the best part. He is able to move his foot to neutral and hold it there. Well, not quite neutral. But he can move it upwards and hold it. Something he has never been able to do before.
So, after a year of surgery, botoxing, casting, AFO's, physio, and most importantly running, playing and being a kid, we have success. Matthew teaches me new meaning to that word every day. This journey that we are on is still long but I have no doubt that this little foot will take him where ever he can dream.